SELECTED ARTICLES & MANUSCRIPTS
RECENT ONLINE PUBLICATION: TREATMENT OF BENIGN ESSENTIAL BLEPHAROSPASM AND IDIOPATHIC HEMIFACIAL SPASM WITH VIMPAT (LACOSAMIDE)
LOWER CERVICAL INJECTION TREATMENT OF FACIAL PAIN, ALL HEADACHES AND NECK PAIN.
THIS IS THE ONLY SAFE AND EFFECTIVE EMERGENCY TREATMENT OF MIGRAINE HEADACHES THAT WILL STOP THE MIGRAINE IN LESS THAN 2 MINUTES WHEN TRYPTANS (E.G., IMITREX) HAVE BEEN INEFFECTIVE.
BACK IN 1994 DR. MELLICK WAS THE FIRST PERSON TO DESCRIBE THE USE OF NEURONTIN (GABAPENTIN) FOR MANAGEMENT OF NEUROPATHIC PAIN.
First Gabapentin Pain Poster 1995 American Pain Society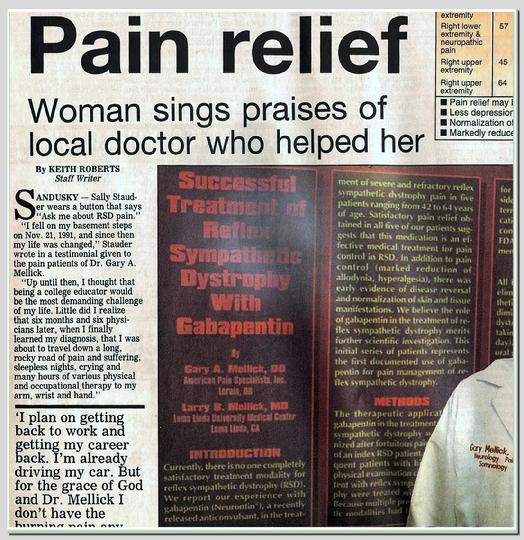 Firt Newspaper Article Regarding Gabapentin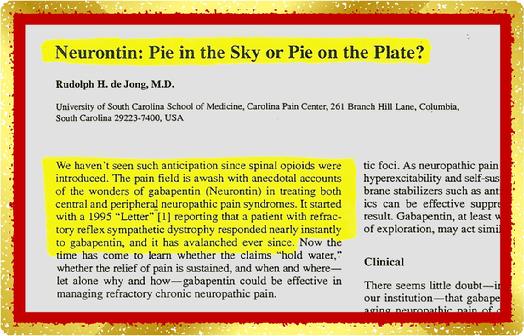 Gabapentin: Pie in the Sky?
THE INTERSECTION SYNDROME